The 2018 Lincoln Navigator is a smooth-sailing SUV
Lincoln won the North American Truck of the Year award for 2018, which on its own sounds kind of crazy.
A luxurious Lincoln the truck of the year? What about Ford? Chevy? Ram? It's like the automotive equivalent of a snowboarder taking gold in the women's Olympic downhill skiing event.
Oh right, that happened this year, too. Congrats, Ms. Ledecka.
Then again, Lincoln did pretty much create the super-size luxury SUV segment with the original Navigator SUV way back in 1997, so perhaps the accolades that the new one is getting are simply overdue. They are well-deserved.
More than ever before, the 2018 Navigator takes the idea of the American land yacht and scales it up into a cruise ship. You can even get it decked out in a very nautical light blue leather and whitewashed wood interior that's almost too on the nose, considering that a lot of these will spend their lives with boats in tow.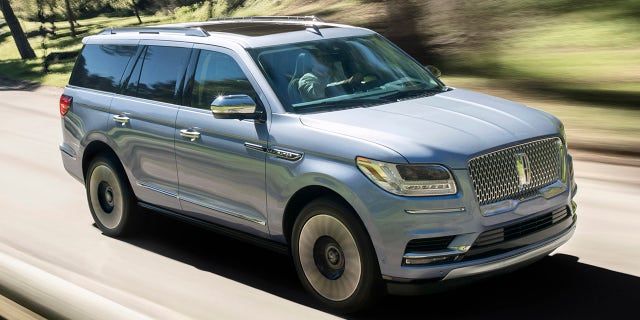 That sort of thing used to be the main reason to buy a pickup truck-based luxury SUV like the Navigator, rather than a sedan or crossover, but this one shines on its own against all comers at its $73,250 starting price. Most important, it outdoes the Cadillac Escalade in pretty much every way.
Exterior styling is one that's up for debate. The Escalade's dramatic look does still make a heck of an entrance, but it might be too flashy for some. On the other hand, the Navigator presents a classy, but more conservative air.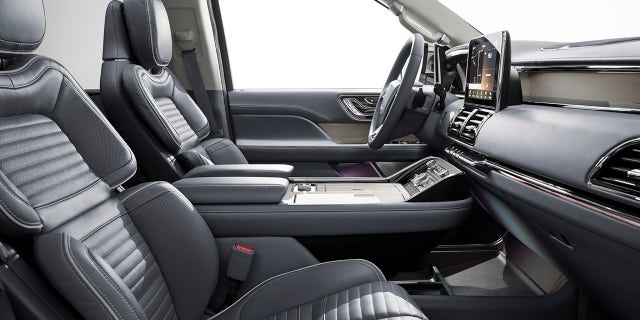 The Navigator's interior wins hands-down with well-designed controls and lavish mid-century-inspired design themes that include long lines, miles of chrome trim and epic wood planking. The only thing missing is a horizontal speedometer graphic for its digital instrument cluster, which sounds like a good idea for a hack to me.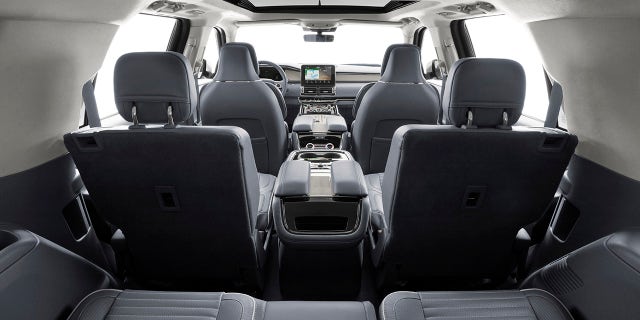 It's parlor-like in there and the 30-way adjustable front seats with massage function are better than anything you'd find in an actual parlor. Six-hundred or so miles lugging around my sorry excuse for a lower back without issue is testament to that. Second row passengers get second class seating, but with plenty of legroom in front of them, while adults in the roomy third row won't feel like they're being sent into the hold. You're better off back there than in the middle of some SUVs.
That's in part because of the Navigator's secret weapon: an independent rear suspension. The Escalade doesn't have one, and neither does the Infiniti QX80 or Lexus LX570. It allows for more legroom in the cabin and limbers up the Navigator's legs.
On all but the entry-level model, it's equipped with computer-controlled dampers that keep the motion of the Navigator's ocean in check without sacrificing comfort. It's smooth sailing almost all the time, even on gravel. The only blemish is courtesy of the 22-inch wheels that come with high end trims, which simply don't have enough rubber and air attached to them to completely blot out the sharpest blows.
Various drive modes adjust the suspension's firmness, but it never gets too stiff. This is true even in the "Excite" mode that is Navigator-speak for "Sport," and takes the most advantage of the 450 hp twin-turbocharged V8 under the hood and the 10-speed automatic transmission attached to it. This is essentially the same powertrain that's in the high-performance F-150 Raptor pickup, complete with a stout 510 lb-ft of torque that's good here for an 8,300-pound tow rating.
ARE YOU FOLLOWING FOX NEWS AUTOS ON FACEBOOK YET?
It's also the loudest thing about the Navigator, at least when you floor it. It and everything else about the vehicle – other than its 20-speaker Revel Ultima sound system -- are otherwise an exercise in silence. If the last Mercedes S-Class I drove was any quieter, it wasn't enough so for me to remember.
The Navigator is a techy truck, too. You can get it with adaptive cruise control and an effective lane-keeping assist system that take the edge off long trips. There's an available trailer backup assist system that helps when towing, and a 360-degree bird's-eye camera that you have to dig into the 10-inch touchscreen to activate on the fly, but could really do with a button because you'll want to use it often in a truck this big.
That screen is equipped with Lincoln and Ford's Sync 3 infotainment system, here with a slightly fancier skin, Wi-Fi, standard navigation and lots of redundant physical controls below it, which is something the Escalade dreadfully needs. A head-up display with a speedometer, navigation prompts, etc., completes the digital onslaught, but is a little fuzzy, especially at the edges.
A rear seat entertainment system can be added for $1,995, but I'd skip it. It's basically two proprietary tablets with storage media, USB and HDMI inputs, but no DVD or Blu-ray. They also have built-in Sling, but you can only use it if you have a physical SlingBox at home. They aren't touchscreens, either, so navigating them with the included remote is about as fun as using cable. The Lincoln rep who helped me figure it out admitted that it's not the most self-explanatory feature and will be getting some updates in the future, but I think you'd be better off buying six iPads and leave one on each seat instead.
That avoidable flaw aside, the Navigator is an ace. Lincoln let the old model exist as the stereotypical airport shuttle for far too long, but it nailed the landing on this one. Now it's selling them as fast as it can make them and plans to crank up production by 25 percent this year to meet demand.
That might not be enough.
----------
2018 Lincoln Navigator
Base price: $73,250
Type: 4-door, 8-passenger, all-wheel-drive SUV
Engine: 3.5-liter turbocharged V6
Power: 450 hp, 510 lb-ft
Transmission: 10-speed automatic
MPG: 16 city/21 hwy